Since 1970, the Illinois State Board of Education has sponsored the Those Who Excel & Teacher of the Year program to honor educators who have made significant contributions to our state's public and nonpublic elementary and secondary schools. Awards are presented in seven categories: classroom teachers, early career educators (teachers 1-4 years), school administrators, student support personnel, educational service personnel, community volunteers, and teams. Application materials are evaluated by a selection committee composed of individuals who represent a variety of educational organizations. Visit our website or send a message to awards@isbe.net if you have questions about the program.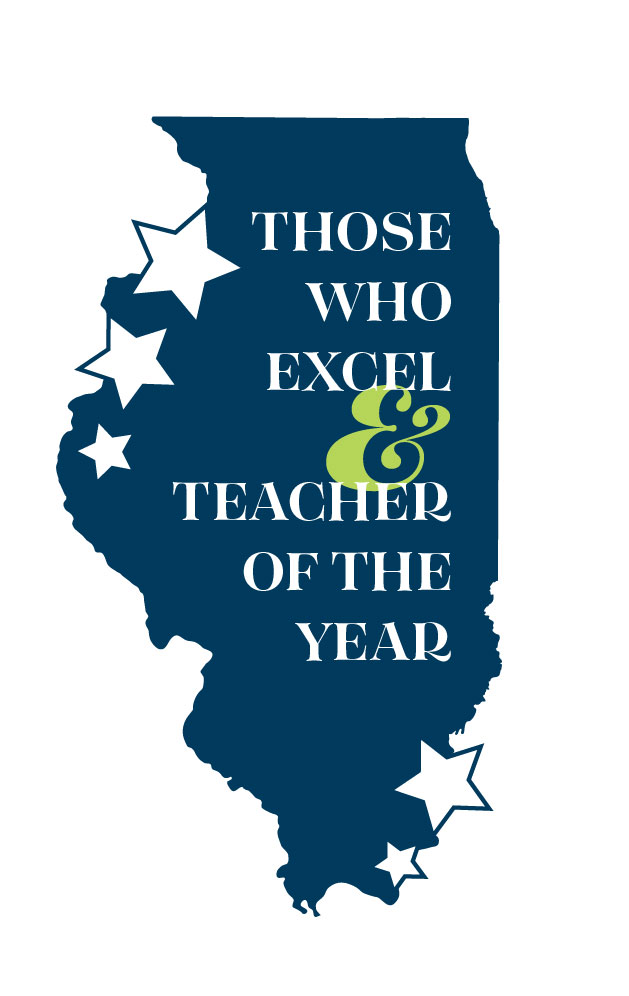 Are you an educator making a positive difference in your school community? Do you work with a colleague who constantly strives to connect and collaborate with students, staff, and community members? If so, the Illinois State Board of Education (ISBE) encourages talented educators to apply directly and nominate their outstanding colleagues for the 2024 Those Who Excel & Teacher of the Year Awards.

See overview of awards process here.

Nominations:
Any student, community member, educators, administrator, etc. may submit a nomination on behalf of a talented educator in their life. There is no limit to the number of nominations that can be submitted by a person, school, or district. It takes only five minutes to submit a nomination that could lead to your staff and schools being recognized with the highest educational honor in the state. Nominations are optional and only upon successful completion of the subsequent application materials will applicants be eligible for an award. The external nomination form is intended to be filled out by someone recommending another person -- no self-nominations, please. ISBE will use submissions for the Those Who Excel & Teacher of the Year Awards, RISE Awards, and other educator recognition opportunities. Visit ISBE's Elevating Educators webpage or send a message to awards@isbe.net if you have questions.
Applications:
Unlike nominations, applications are required to be completed and submitted by the deadline in order for applicants to be eligible for 2024 Those Who Excel & Teacher of the Year Awards. Applications will be accepted from September 1 through October 15 at 11:59 pm CST. While completing the subsequent form, applicants will complete all necessary components of the application (such as letters of recommendation, essays, contact information, etc.). See our review of the application process for full eligibility details and application requirements.
ISBE encourages all applicants to apply directly - without relying on another staff member to collect materials and apply on the applicant's behalf. Applications will likely not be completed in one session, so it is recommended that you create a Submittable account to save your progress (see technical support below). It is also recommended that applicants reach out to recommenders to formally request letters of recommendations as soon as possible. All materials must be submitted, including letters of recommendation, by the deadline in order for application to be scored and awarded.

Technical Support:
In order to complete an applications, users must first create an account with Submittable. For first time users, click on the "Create Your Account" button at the bottom of this page. Once you have submitted your information, the application form will become visible. Save your Submittable login information and it is recommended that applicants use a frequently reviewed email address in order to ensure timely delivery of all updates and reminders. If you already have a Submittable account, Click "Have an Account? Sign-In" at the bottom of this page. Once signed in, the application will become visible.
Nominators, external relations staff, and potential applicants are all encouraged to attend ISBE's TWE&TOY Awards Informational Webinar on Wednesday September 6 to learn more about the agency's awards process and discover how to integrate ISBE's awards within your school communities. After September 6th, a recording of the webinar will be made available at the same registration link.
If there are any technical difficulties with Submittable, applicants should consult the Submittable support pages to get help troubleshooting their submissions issues. If issues persist, please send your questions to awards@isbe.net with the subject "Submittable Issue" and ISBE staff will follow up.

Projected Timeline:
Projected Timeline
(Timeline is approximate and subject to change.)
Nominations may be submitted year round
September 1, 2023 - Applications open
September 6 , 2023, at 3 p.m. - Informational Webinar
October 15, 2023, at 11:59 p.m. -Applications close
January 2024 - All awardees announced
March 2024 - Teachers of the Year Cohort Reception and finalist interviews
April 2024 - Illinois Teacher of the Year announced
May 2024 - 50th Annual Those Who Excel & Teacher of the Year Banquet